Staff can do searches on a limited basis as time permits.
Write us at Watonga Public Library, 301 N Prouty, Watonga, OK 73772
Call us at 580.623.7748 or fax at 580.623.7747
e-mail us at bookwoman@watonga.lib.ok.us
Resources Online and in the Library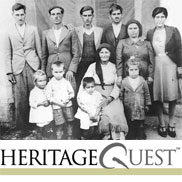 Ancestry Genealogy Database
Available at the library only. No remote access.
Cemeteries of Blaine County Oklahoma
Includes all county cemeteries. The Cemetery Index is now digitized and kept up-to-date with one month. Use the index at the library or, if time allows, ask us to perform a limited search for you.
Call the library to order a copy of the Cemetery Index @ 580-623-7748.
A Centennial History of the Watonga Area: 1892 to 1992
This comprehensive history of Blaine County was compiled by a committee of local citizens with many families contributing histories. The book covers 100 years of history of Watonga and the surrounding area. The library staff has digitized the subject and name indexes. A limited number of these books are still available. Contact the library at 580.623.7748 or bookwoman@watonga.lib.ok.us or The Watonga Republican at 580.623.4922 for details.
Watonga 1892 to 1992, a history of Watonga's buildings
Their Story: A Pioneer Days Album of the Blaine County Area
Contains collected family histories.
Watonga Republican newspaper
On cd-rom and microfilm, 1892 to present, founded by T. B. Ferguson, Territorial Governor.
The Story of Fay: History & Memories 1894-1994
Contains collected family histories of the Fay, Oklahoma area
They Passed This Way: A Family History of Early N. W. Blaine County
Family histories, especially Canton, Oklahoma area
Ancestry's Red Book
American State, County & Town Sources shows where to write for birth and death certificates and other documents in the United States
1880 United States Census and National Index on cd-rom
1900 United States Census (indexed) online
Annotated Bibliography of Cheyenne-Arapaho Resources (PDF, 93 KB)
Genealogy Helpers
Oklahoma Historical Society Living Legends Collection
Link to OHS Oral History Collection on youtube
Assorted Individual Family Histories